BothSWELL Plaza
July 28 2008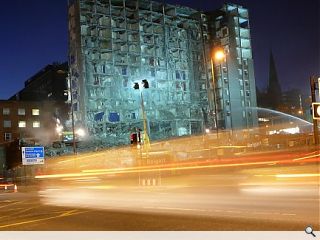 Construction of Bothwell Plaza has been delayed pending a design review. This follows SMC Jenkins and Marr's departure from the job, now replaced by AEDAS.
Originally pencilled in for 2 separate hotels, this has been rationalised to a single 300 bed 5* Crowne Plaza. The originally mooted 273 bed, 3* Holiday Inn Express has been dropped. Taking its place will be expanded office provision equating to some 300,000sq/ft housed within a 24 storey slab sitting perpendicular to Bothwell Street.
Given elevated positioning within the heart of the CBD and generous floor to ceiling heights, Bothwell Plaza could assume greater skyline significance than 236 Broomielaw. With pre-application design work still being undertaken we can only await with baited breath to see what level of design ambition European Development Company (Hotels) Ltd and AEDAS can effect.
Back to July 2008