Borders Sculpture Park returns with politically charged installation
Send to friend
* Required fields
|
Send to friend
April 30 2018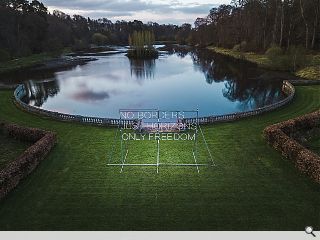 Borders Sculpture Park has
returned for a second season
with the unveil of The Messenger by Hilary Jack at Robert Adam's Mellerstain House near Kelso.
Drawing from a rich well of history each quarter of The Messenger carries its own narrative, beginning with the story of Lady Griselle Baillie who occupied the house from 1665 to 1746 and is best known for her meticulous bookkeeping which stands today as a detailed picture of household life.
This is achieved through restoration of a statue of Hermes at the front entrance which had lost its Caduceus staff some years ago, now reimagined in dayglow Perspex. It is joined by an unmissable 25m lawn drawing evoking both ceiling roses and the 13th earl, John Baillie Hamilton. An eccentric best known for a fascination with crop circles and the paranormal.
This is joined by a facsimile of a long lost look-out tower (an early form of alarm system involving lit fires) in the form of a dolls house which releases puffs of smoke when visitors approach. More pertinently the display also includes a large neon 'No Borders' sign alluding to contemporary political upheaval in the form of the Brexit and Scottish independence votes.
Jack commented: "My intention for this new body of work is to explore the politics of location at this historic home on the Anglo Scottish border from its early beginnings to the present day. The Messenger can also be viewed through a contemporary political lens regarding personal freedoms, global border conflicts and freedom of thought."
The series of four newly commissioned works will grace the grounds of the 18th century mansion from 4 May to 1 October, presenting its classically-inspired architecture in a new light.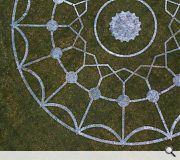 The largest installation takes the form of a 25m 'crop circle' daubed in white paint across the front lawn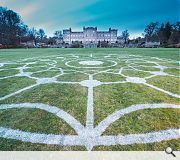 The sculpture park will be open from 4 May to 1 October
Back to April 2018