Dumbarnie Links scores a hole in one with Fife planners
|
Send to friend
April 6 2018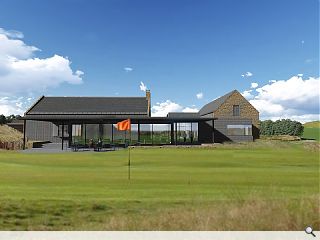 Fife Council have awarded planning consent to re-establish an historic golf course at
Dumbarnie Links, Drumeldrie
, documented as having first operated from 1837 to around 1870.
The 18-hole course will include a contemporary clubhouse designed by G1 Architects that will maximise views over the surrounding course and Firth of Forth via its situation on an elevated escarpment. Gable ends will be clad in stone with vertical blackened timber reflecting a backdrop of plantation forest.
In a design statement the architects wrote: "Elements of irregular fenestration convey character. Although an invented historic narrative this acts to imply longevity and permanence.
"A narrow band of zinc cladding at eaves level offers a sleek and contemporary rendition of the local tradition for differentiation at eaves level.
"Contemporary pop-out annexes clad in horizontal silvered timber cladding delineate different individual functions within the building whilst linking structures act to tie the building together."
The £11m development is sited in an area designated as a Site of Special Interest prompting a pledge by Dumbarnie Links to protect rare orchids.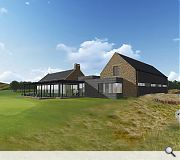 A number of ancillary structures are planned including a maintenance shed, shelter, store and caddy building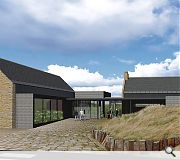 Grasses, bare sand, woody vegetation, wildflowers and herbs will be introduced as part of a planting programme
Back to April 2018