Hillside home hunkers down in Aberdeenshire
Send to friend
* Required fields
|
Send to friend
April 4 2018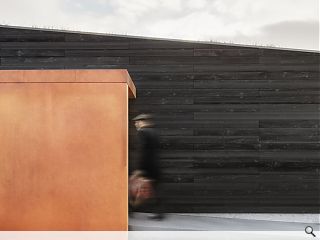 Brown + Brown Architects are to make their mark on the Aberdeenshire countryside with proposals for a glamourous new home on the footprint of a demolished hillside cottage.
Prepared on behalf of private clients Spyon Cop has been conceived as a contemporary property, responding to the steep topography of its sloping site with a monopitch grass roof that will blend with the landscape when viewed from higher elevations.
Arranged back to front with a rear entrance to maximise shelter the majority of living spaces will benefit from south facing views of the River Don below with access from the public road to Glenbuchat Castle.
In a statement the architects wrote: "It is proposed that the new dwelling house occupy part of the footprint of the previous cottage, which sits within a hollow on the hillside. The house would run on the same axis as the now demolished cottage.
"A single storey dwelling is proposed in order to reduce the potential ridge height of the building, and it is felt that the form of the building would create an unashamedly contemporary, yet complimentary, addition within the landscape, which sits within, and is informed by, the existing topography."
Finished in black painted and untreated timber with a corten steel clad covered entrance kept deliberately low to impart a feeling of 'hunkering down' against the elements. Stonework from the demolished cottage will be re-used for landscaping and site walls.
Images by Touch3D
Back to April 2018