War of the Roses
|
Send to friend
July 24 2008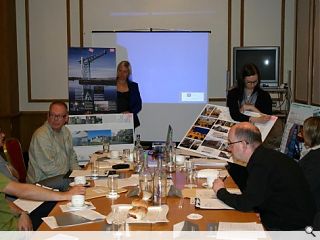 Judging for the 2008 Roses Design Awards has concluded and Architecture Scotland was there to record proceedings. Debate proved fraught as the calibre of each potential candidate was interrogated in turn. Reaching consensus proved difficult as many schemes had strong attributes, as Neil Gillespie of Reiach & Hall said: "I'd put my name to any of them. In fact, I probably will!"
The decision making process took the form of a gruelling 6 hour perusal of submissions, generally considered without preconception though familiarity with certain schemes proved inevitable as did the occasional flaunting of anonymity rules! Those schemes in each category that succeeded in drawing judges attention were followed up by some generally congenial, at times animated, debate. Who would receive the most hallowed gold awards?
As the afternoon drew on it became increasingly clear which entries were commanding popular affection. Accurate gradation of these extraordinarily exquisite schemes provoked fascinating debate amongst those in attendance. As the subjective merits of each were thrown around the hall, chewed over and subjected to rigorous cross examination, who would pull ahead?
Find out, here, at 12 noon on 1 August.
Back to July 2008