Mackintosh's Hill House steels itself for 'Big Box' intervention
|
Send to friend
March 26 2018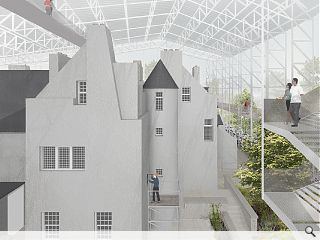 The National Trust for Scotland has firmed up its arresting
'Big Box' conservation project at Helensburgh's Hill House
to provide temporary shelter while essential conservation work is carried out.
The Mackintosh masterpiece is in need of urgent repair to remedy defects in the original construction to prevent damaging water ingress, necessitating
construction of a giant roof
to over sail the house while protecting light and views.
Making an opportunity out of a necessity architects Carmody Groarke, working with conservation architect LDN, will take advantage of this structure to build a series of ramped walkways, offering visitors a new vantage and vistas of both the home and the conservation process.
Maximising this potential a new visitor centre will be built to replace facilities located within Hill House, taking the form of a double-height void which frames views of the western façade and clad with dark stained timber weatherboard.
Explaining their intervention the architects wrote: "The roof is supported by a lightweight lattice frame so that clear views are retained to and from the house, it is proposed that this is then clad with a perforated stainless steel mesh to allow free airflow to the house throughout the duration of the works."
Conscious of the risk of damage to the house and grounds the architects have pledged to maintain planting where possible and employ a self-sufficient structural solution that does not rely on the house for support.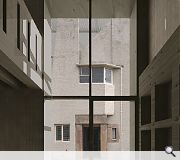 A double-height visitor centre will frame views of Hill House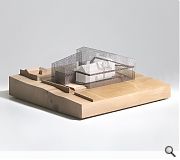 The design has been governed at all stages by a desire to minimise impact on the existing fabric
Back to March 2018