Hotels push reshapes Jamaica Street
|
Send to friend
July 21 2008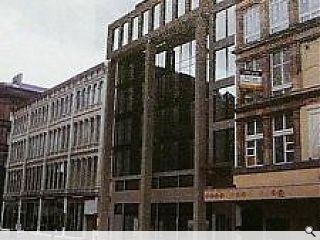 New 115 bed hotel provision is proposed by Greystones Ltd and ARM Architects to augment Glasgow's exponentially mushrooming stock. Located at a long standing gapsite of some 5 years, the hotel aims to heal a wound in the streetscape whilst simultaneously contextualising the neighbouring Grade A listed Gardners Warehouse. Proposals seek establishment of a basement kitchen area servicing a bar/restaurant on the street frontage, 9 floors of accommodation rest above, the uppermost 3 recessed to negate intrusion.
A large central glazed area surrounded by a sandstone frame is set back from the pavement line, echoing the proportionality of solid to void seen on Gardners. Further consistency is achieved by extrapolating the rhythm of columns on Gardners, suggestive of 2 additional bays. Restricted street frontage is overcome by intoduction of a central atrium allowing bedrooms per floor to be maximised, satisying the demands of accountants. The Central Station corridors importance is equated with Jamaica Street such that front and rear elevations are accorded equivalent architectural consideration.
Recessed bay and columns are the schemes strongest feature, yet compromised by excessive subserviance to adjacent properties. The 6th floor pediment, designed to bridge a height differential between warehouses, is clunky and muffles elegant classical proportion.
Back to July 2008