Central Quay further fuels Glasgow hotel growth
|
Send to friend
July 21 2008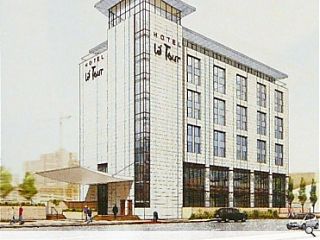 Glasgow's hotel rush shows no sign of abating with news that the 189 bed, 4* Hotel La Tour from Featherstone Austin Woodward Architects is to spearhead the next phase of Central Quay development. A late 2008 start is anticipated for a 1 year build.
This follows the NHS's merciful decision not to proceed with tenancy of a drab office block on land to the immediate north. Natural stone is not an option on budget grounds, resulting in a finish of pale cream and grey ceramic tile rainscreen for a moderately dismal edge of town solution, albeit embarrassingly central. Top floors are only sufficient to nudge the road deck of the Kingston Bridge though blotted by City Wharf in any event.
By nightfall pencil spots of light will rise from the riverfront terrace across the face of the building. This terrace conceals flood defence for a basement level accommodating 100 space parking. A sculptural canopy delineates entrance to hotel and landscaped public garden area granting pedestrian access to the north.
Back to July 2008