Dundee Waterfront rides crest of a wave
|
Send to friend
July 17 2008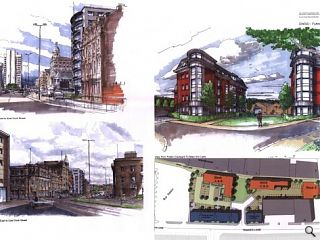 The Jute city of Dundee looks set to benefit from a new residential development from G D Lodge Architects on the site of a former bus garage. The development rises to some 9 storeys along the principle Dock Street elevation with a further 2 low rise buildings located behind on Mary Ann Lane.
In addition to housing the scheme entails construction of a new through road from Trades Lane with associated landscaping, open space and parking.
Contemporary in style but with a nod to the tenemental past, properties will benefit from bay windows and bedded planting with those resident in the tower having access to private balconies, each enjoying panoramic aspect across the Tay.
Back to July 2008