HBG issue Clarion call to tenants
|
Send to friend
July 15 2008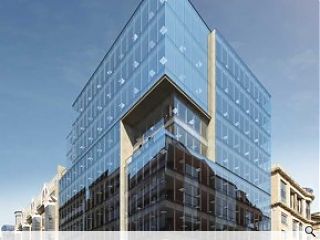 HBG have begun marketing 3DRreid's 75,000sq/ft office project at 29 Wellington Street. Replacing the dilapidated Apsley House with accommodation more becoming of the 21st century, officially naming the development "Clarion".
Visual interest is attained by a dramatic geological fissure zig zagging to the schemes full height, breaking the potential sterility of glass and simple geometry with a layer of limestone. This references Alhambra House and in so doing draws the eye to a central recessed balcony. This cut away facade element provides a strong focal point at a central balcony area which exposes inner office floors to the pedestrian.
Terracing to the sites rear brings the scheme into rooftop alignment with less ambitious neighbours whilst furthering available balcony space and mitigating the cubic impact of a build generously proportioned to take full advantage of site. The dramatic recessed foyer has been carefully aligned with the atrium of adjacent offices.
Back to July 2008