gm+ad aim high with Snodgrass Mills
|
Send to friend
July 15 2008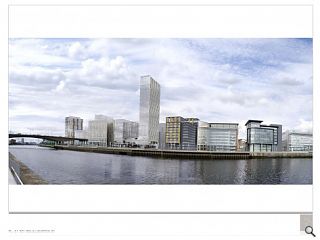 gm+ad architects and Kenmore Property Group have submitted a planning application for Snodgrass Mills. A proposal aiming to bring 278,764sq/ft of Grade A commercial floorplates to the Clyde riverfront. With Sheraton Hotels securing a pre-let of the adjacent 236 Broomielaw, also by gm+ad, financing should be secured for an early start.
Not your run of the mill commercial project, Snodgrass comprises twin office blocks framing a public courtyard. A heavy limestone screening system is used to contain noise, vibration and pollution from the adjacent motorway, broken only by a sleeve of glass rising to command the eye. An exposed eastern corner flanks the Clyde Port Building in a conscious frame of reference to delineate the IFSD perimeter via twin visual stop ends. As foil to this new architecture public realm relects enhanced stature by effecting embedded street lighting set amidst alternating beige and grey granite paving, peppered by precast concrete cube seats and planting.
Datums respect the precedent of 220 Broomielaw (currently placed on hold, Kenmore have opportunity here to steal a march on their rivals), generating a visually harmonious streetfront punctuated by tower element. Prescribing to international modernism each 4 square block extrapolates the city grid to riverfront by maximising floorplates at keen build cost. The bulk of the hotel is broken by a courtyard form enlivened by double height foyer pods and the presence of a glazed tower. Definition is provided by a prominent lattice banding of curtain wall glazing delineated by a spectacular double height pinnacle establishing a further irridescent lantern for Glasgow's growing crown and affording guests opportunity to soak up a growing downtown atmosphere.
Back to July 2008