Urban Realm hits thirty with summer setpiece
July 7 2017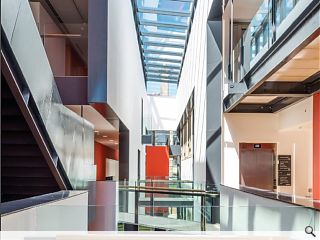 Strength and stability stand are the first principles in any construction project but what happens when the nation itself is lacking in both?
Amidst tragedy and uncertainty this summer, Urban Realm seeks solace in the arms of TV architecture evangelist and perennial optimist George Clarke, who aims to channel his passion by preaching firmer foundations for the construction industry through his Ministry of Building Information.
Taking respite from the turmoil we then bunker down in the former Barnton Quarry nuclear bunker. Since decommissioned its very existence can no longer be dismissed as quaint paranoia.
We also find refuge at the bottom of a champagne glass amongst this years Scottish Design Awards winners. This stellar line-up shows what can be achieved in times of austerity, as does Richard Murphy's Dunfermline Carnegie Library & Galleries.
Our focus lies with landscape architecture however, to which we devote 14 pages documenting the professions enduring success. The theme continues with a look at a proposed surf centre in Ratho, Edinburgh, another former quarry with a surprising second life. We also travel to the convivial environs of Sanquhar in the Borders to relax in the company of Charles Jencks and Daniel Liebskind - two industry greats who find themselves contemplating higher matters.
We then fall back to Earth with a bump with a trip to Perthshire in the company of Mark Chalmers, who laments a lost generation of country houses and castles.
You can
obtain your copy of our thirtieth edition now
.
Back to July 2017