Fintry embraces its past for future museum vision
July 5 2017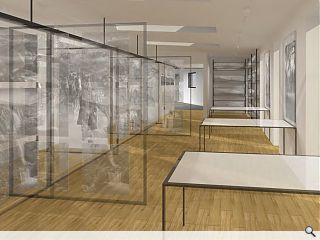 Fintry Museum Society are looking to the future with plans for a new exhibition and learning space for the display of local artefacts and boost tourism to the village.
Located within the curtilage of Fintry Sports & Recreation Club on an existing gap-site the museum will marry with the existing sports cent rein its external appearance by employing a simple brick skin with internal space maximised through use of rotating display frames and wall-mounted fold down tables.
In a statement the Fintry Museum Society wrote: "The respectful and interactive nature of the design ensures the proposal compliments its surroundings and boosts interest in the area.
"By occupying a gap site to the rear of the sports club, the proposal does not encroach on any greenfield sites or eco-systems and will retain the existing public footpath. By utilizing this area and by creating an entrance through the existing sports centre, the proposal will create a key component of the towns expanding cultural centre."
In this way it is hoped that the story of Fintry can be told for the first time within a
purpose-built space
.
Back to July 2017