Stars align in Sanquhar as Charles Jencks & Daniel Liebskind come to town
June 6 2017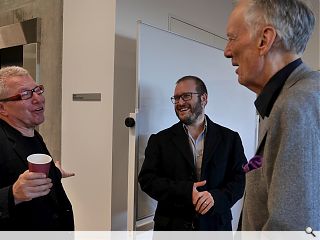 Land artist Charles Jencks, creator of an arts landscape at Crawick Multiverse in the Borders, is to host architect Daniel Liebskind at Sanquhar town hall on Saturday 24 June where the pair will hold forth over a day long series of talks.
Headline act of Cosmic Collisions, Birth, Rebirth and the Universe, an exhibition exploring the nature and origin of the universe, the event will see Liebskind unveil previously unpublished drawings of spiral galaxies – inspiration for the architects £11.5m Ogden Centre for Fundamental Physics in Durham.
These will be displayed alongside a selection of paintings drawn by Jencks which visualize the collision and merger of galaxies – a process which spurs the formation of new stars.
Libeskind commented: "My work is driven by the love of architecture, its space, light, and musical proportions as they engage history and the particulars of a site. My discussion will focus on what gives meaning to architecture forms, be it spiral galaxies, historical disasters or the rebirth of places."
Jencks added: "We are very fortunate to be able to welcome Daniel and a series of other international speakers to Cosmic Collisions. It isn't every day you get the chance to meet and hear leading artists, architects and space scientists in an intimate setting like Sanquhar Town Hall.
"I have known Daniel for many years, and sometimes worked with him, and it will be a very great pleasure to welcome him to this part of Scotland."
Sanquar lies a few miles from
Crawick Multiverse
, a 55 acre artland designed by Jencks to explore themes of space, astronomy and cosmology, where the land artist will unveil his latest installation.
Back to June 2017