Aberdeenshire sheep shelter transformed into studio workspace
May 25 2017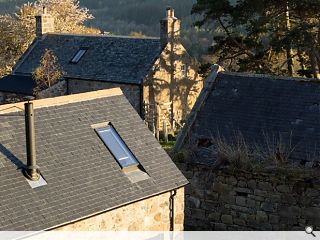 An Aberdeenshire sheep shelter has been transformed into studio workspace by Moxon Architects as a temporary office solution for the practice ahead of delivery of a permanent new studio in 2018.
The granite steading retains its agricultural character following the work with new floor, ceilings and staircase treads formed from wide-boarded maritime pine. A steel block insertion meanwhile creates a 'building within a building' within which a kitchen wet room and storage space have been fashioned.
In a statement Moxon Architects observed: "The studio incorporates a steel block insertion, creating a building within a building, containing a kitchen, wet room and storage space. The treatment of the steel has been parkerised (given a protective phosphate coating) and finished with beeswax, allowing the compact space a sense of depth.
"The former entrance to the steading – wide, tall and nearly perfectly square, has been glazed with a single sheet of glass. The steading's durability and practicality fit seamlessly with contemporary lines – invoking an overall utilitarian spirit conducive for an architectural workspace."
A wood burning stove has been installed to provide much-needed heating during winter months.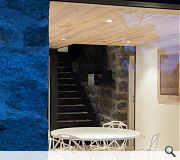 The granite steading has been sensitively remodelled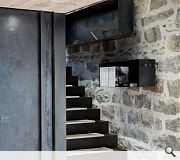 The space has been transformed internally
Back to May 2017