Wobbly architecture
|
Send to friend
July 2 2008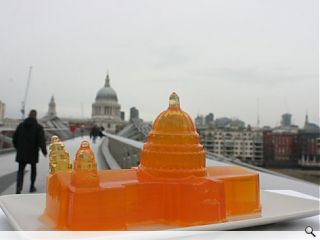 Here at Prospect our imagination was caught by the jelly architecture competition running in London. Architects were invited to create an architectural model, made out of flavoured jelly.

Some amazing designs were submitted including Will Allsop's Tutti Fruiti design and of course Foster's Wobbly Bridge.
Scottish based conceptual artist Iain McCaig is understood to have specifying that the jelly used to construct his 'Orangelly' should be white-wine or champagne based, with orange flavour added in the form of equal measures of orange Curacao and Grand Marnier.

To see a selection of the entries including a jelly version of the Eden Project, click here:

http://www.jellymongers.co.uk/banquet.html


Bompas & Parr's extraordinary Architectural Jelly Banquet, for the London Festival of Architecture, will take place in UCL's Main Quad, Gower Street, London on 4 July. Click here for more information.
TICKETS NOW ON SALE www.seetickets.com
Back to July 2008