Architects fire up Newbridge training centre
May 22 2017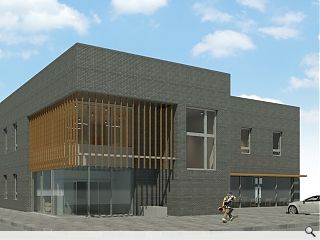 Smith Scott Mullan Architects have filed plans for a new
fire and rescue training facility at Newbridge, Edinburgh
, following expiry of a previous outline approval for the same site.
Located adjacent to an existing fire service HQ within Claylands Road Industrial Estate the facility will rise on an area of scrubland to provide a range of environments to simulate hazards and disaster scenarios.
The headquarters building will also house office space, changing rooms and a reception area, with the expectation that this will be delivered in two phases.
In their design statement the architects wrote: "The building is clad in dark brick, lending it a robust appearance fitting to its function. Window sizes are generally limited to control undesirable solar gain to offices and similar spaces. Larger areas of glazing are concentrated on the entrance corner and south elevation, serving reception and canteen spaces. Vertical timber batten solar
shading on the corner and the overhanging roof signal the main entrance.
"A tall parapet to the roof hides roof-top plant and affords safe maintenance access without the need for other forms of edge protection or harnesses."
Offering real-fire training for the east of Scotland the centre will include a technical support building as well as training buildings with LPG-powered fires and artificial smoke following closure of two other real-fire training facilities in Edinburgh.
A
similar facility was recently opened in Cambuslang on behalf of Strathclyde Fire & Rescue
.
Back to May 2017