Hackland + Dore oversee Portobello infill
May 10 2017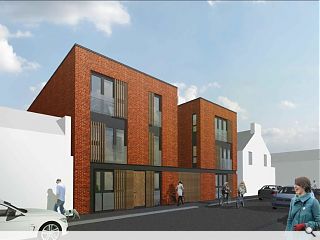 Hackland + Dore are pushing plans to build
eight flats on Edinburgh's Friggate Street
, within the city's Portobello conservation area.
Presently utilized as a communal courtyard and vennel the subject to construction of a three storey infill building containing three studio flats and three two bedroom properties
In their design statement the architects observed: "All the elevations will be mainly faced in red brick, the street frontage will also feature timber (louvres, gates, door and cladding), an exposed dark grey metal beam and dark grey zinc fascia. Windows and doors will be dark grey timber frame. Dark grey zinc faced canopies will be provided over the common stairwell and the studio flats entrances, horizontal features to express these entrances and offer shelter.
"The use of a dark grey coated metal beam framing all the ground floor openings on the streetside-including doors, windows and gates links the two blocks of flats and acts as a continuous active ground floor for the development."
Living areas will be oriented to face the street in order to help provide informal observation.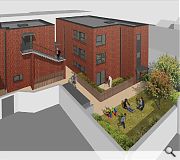 Private and communal garden spaces will be located to the rear
Back to May 2017