New Gorbals matures with new civic hub
March 27 2017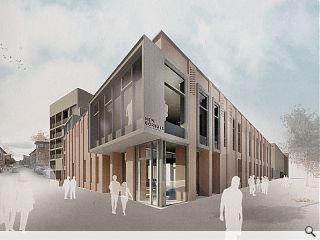 New Gorbals Housing Association have submitted proposals to
erect a new head office on Crown Street, Glasgow
, on the site of two demolished Sandiefield Road tower blocks.
Designed by Page\Park to meet the growing needs of the social landlord the offices will form the heart of a new 'civic hub' for the growing district, with the remainder of the urban block given over to a new health centre and
additional housing
.
The three-storey office element has been conceived to sit in harmony with surrounding homes and will include a 'civic plaza' connecting the Gorbals to Laurieston further west. Overlapping an adjoining residential block with contrasting brick it aims to evoke a traditional Victorian terrace.
In their design statement the architects observed: "The new office is conceived primarily in brick as an extension of the evolving language of the greater Gorbals area. The repeating motif of monolithic brick piers translates this robust and familiar material into a more civic scale, elevated by the play of light through modulated reveals and the subtle texture of perforation.
"The physicality of this 'garden wall' helps the building to achieve its passive environmental goals by reducing the extent of glazing.
"The primary language of brick is embellished with zinc features, primarily at the projecting committee room on Crown Street but also atop the housing and at the other end of the plaza elevation."
A committee room will extend out above the primary Crown Street entrance as the termination of an existing shopping arcade.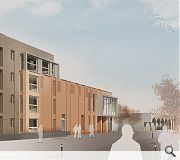 New pedestrian routes will be established through the site
NGHA have outgrown their existing Crown Street offices
Back to March 2017