Haymarket Redevelopment Gets the Go Ahead
June 25 2008
A meeting of Edinburgh's Planning Committee this morning (Wednesday) sensationally approved the large scale demoltion of the Morrison Street goods yard, and gave the green light for the planned £200 million redevelopment of Haymarket Station.
The plans, which still require approval from the Scottish Government, feature a five-star, 192 bedroom hotel and a neighbouring three-star, 245 bedroom Travelodge.

John Nesbitt, managing director of Tiger Developments, said the development compnay was pleased to secure approval from councillors.
"Tiger Developments devoted a significant amount of time and energy to designing a scheme which represents the best solution for this challenging site. We can now look forward to the project being considered by the Scottish Government,"
"The Haymarket will be of immense benefit to Edinburgh by transforming a site which has remained derelict for 40 years into a vibrant new quarter."

Edinburgh architects Richard Murphy, CDA and Sutherland Hussey were enlisted by Tiger Developments to draw up designs for The Haymarket. The planning application will now be referred to the Scottish Government because of the City of Edinburgh Council's financial interest in the site and an Environmental Impact Assessment.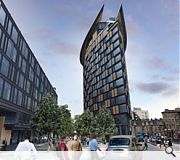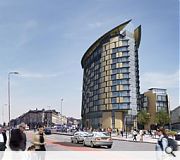 Back to June 2008