Rutherglen Church revitalised by Page\Park
January 6 2017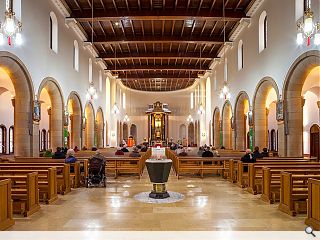 Page\Park Architects have unveiled a second phase of refurbishment work at St. Columbkilles Parish Church, Rutherglen, on behalf of the Diocese of Motherwell.
An underfloor heating system has also been installed throughout the nave of the church which has been embedded within a limestone topped concrete floor. Oak benches have also been sanded and varnished with widened seats, book shelfs and lengthened kneeler.
In a statement the church said: "The renovation of the heating system was a cornerstone of the overall project and was central to the steering group's brief to make St. Columbkille's a more comfortable, welcoming place to worship. A frequent comment by parishioners and visitors over many years has been that St. Columbkille's 'is a cold church'."
Phase 2 works also entailed re-centering marble sanctuary stairs as well as refurbishment of an altar canopy and pedestal to enhance the churches original character.

Photograph by Ross Campbell
Back to January 2017