Kick-off 2017 with Urban Realm
January 6 2017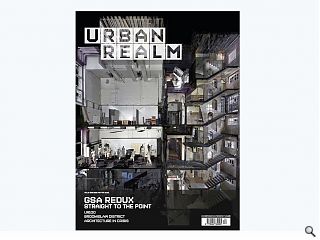 Urban Realm starts the New Year with
publication of our winter edition
, bookended by two complementary tales of riverfront rejuvenation. Opening with an ambitious Ayr masterplan, which seeks to take the Ayrshire town back to the future with a new network of vennels and closes. In many respects Ayr is leading the way over Glasgow, which is still scrabbling to come up with a coherent riverfront strategy of its own. We speak to the teams behind both to see what is in store.
The big story this issue is our annual rundown of Scotland's top architecture practices, headed this year by a practice which has taken great strides to bolster its design credentials. Whilst there is work still to do in this area it shows that profit and design needn't be mutually exclusive goals in architecture.
In light of these findings we take a close-up look at two centres of excellence which strive to achieve high-end design on a limited budget; Oriam and Kilmarnock Campus. Oriam shows what can be achieved when architects put their best foot forward while Kilmarnock Campus illustrates how further education can kick-start wider regeneration.
2017 may signal the end of the Festival of Architecture but despite a year of activities and events the profession is far from being in rude health. Here John Pelan outlines why our built environment is in a state of crisis.
Elsewhere Mark Chalmers looks at the myths swirling around Gillespie Kidd & Coia and Sigurd Leverentz, drawing parallels between the cult-like appreciation of both and the discrepancies between their not insignificant achievements, Chalmers separates fact from fiction.
Whatever your background, wherever you are an exciting year lies ahead.
Back to January 2017