Glasgow Caledonian University completes £30m campus overhaul
October 25 2016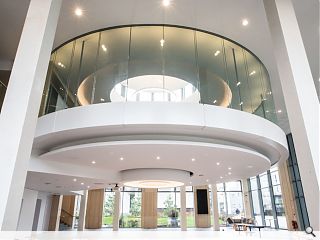 Glasgow Caledonian University has completed a
£30m campus overhaul conceived by Page\Park
which has seen it create a new entrance and landscaping together with refurbishment of George Moore and Hamish Wood buildings.
Delivered by Robertson 'Heart of the Campus' was conceived as creating a new gateway to the city centre campus by recladding and remodeling existing concrete framed buildings whilst they remained in use.
This has enabled the institution to provide new learning and social spaces, a student services hub and a 500-seat lecture theatre.
David Cairns, managing director, Robertson Central, said: "The entire team has worked tirelessly over the past two years to deliver on this redevelopment. Throughout most of the work, the university was filled with nearly 20,000 students which meant we had to be extra resourceful in getting the job done while ensuring minimum disruption for students and staff."
The project forms a key plank of the university's Campus Futures initiative which will upgrade its estate through a succession of individual projects.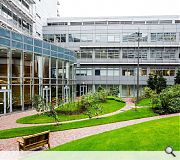 Extensive public realm work included the introduction of new soft landscaping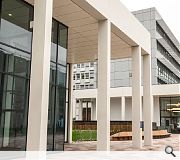 The requirement to keep the campus in operation throughout necessitated a complex phased operation to deliver the improvements
Back to October 2016