Maggie's Lanarkshire shortlisted for landscape award
|
Send to friend
October 17 2016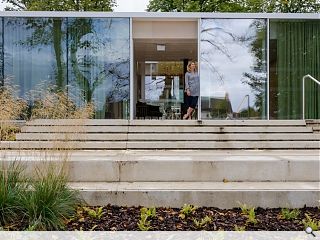 Maggie's Lanarkshire is in contention to win professional recognition for the quality of its landscape architecture after the Rankinfraser project was shortlisted for a Landscape Institute Award.
The professional body singled out the cancer care centre as part of a sweep of the UK for work which best exemplifies either public health, green infrastructure or sustainability.
Maggie's Lanarkshire
takes the form of a series of enclosed gardens contained by woven fences and brick walls to impart a sense of community and safety.
Shortlisted work will be exhibited at the Building Centre, Store Street, London from 2 November until Christmas with the results being announced on 24 November.
Back to October 2016