Urban Realm publishes summer magazine
|
Send to friend
July 5 2016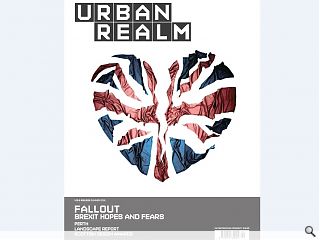 The latest edition of Urban Realm is
now available to subscribers
, once again distilling all the latest industry news and gossip, albeit couched by the potential fallout from Brexit.
Britain's impending departure from the EU is as abrupt as it is shocking but as the dust settles the question on everyone's lips is where do we go from here? We quiz industry figures for their views in order to pin down their hopes and fears for the future in our latest issue.
Away from febrile politics the world continues to turn with the return of the Scottish Design Awards which again throw up a fresh clutch of creative projects and teams. It's a heady mix of architecture and design and proof that creativity can still thrive in a climate of constitutional uncertainty.
Landscape architecture is thrust back to prominence this issue as we not only deliver our regular industry snapshot but also investigate an innovative renewable energy project at Port Dundas and the launch of Growing Awareness, a compilation of essays that deliver a timely reminder of the increasing pressure our environment finds itself under.
Our focus on secondary urban centres also continues as we dispatch John Lord and Mark Chalmers to give updates on Berwick and Perth respectively. Neither location is lacking in difficulties to seek but their differing approaches illustrate that there is still a place for compact centres in an age of globalisation and sprawling mega cities.
Elsewhere we take a look round the newly completed regeneration at Sighthill to see at first-hand how new life is being brought to a forgotten Glasgow district. We also take one last spin around Edinburgh's doomed St James Centre in the company of photographer Marco Devita to witness the brutal death of a concrete monster.
In or out, this issue we shake things all about.
Back to July 2016