UK cities visualised being dwarfed by world's tallest buildings
Send to friend
* Required fields
|
Send to friend
June 17 2016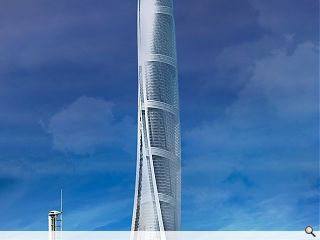 A series of photo montages have been published illustrating how the skylines of some of the UK's biggest cities would be transformed in the unlikely event they might ever play host to one of the world's tallest buildings.
Amongst the illustrations is the Glasgow waterfront in which the 127m tall Glasgow Tower is dwarfed by the imposing presence of the 32m tall Shanghai Tower, illustrating the disparity in scale between home cities and global mega cities.
Even cities such as Liverpool, no stranger to high rise development, would be transformed as the lop-sided view of a Liverpool waterfront playing host to the 509.2m tall Taipei 101 attests. In Manchester meanwhile the dominating presence of its 169m tall Beetham Tower would be eclipsed by New York's 541m high One World Trade Centre.
The outlandish concepts were created by recruitment specialists Fusion People as part of efforts to imagine how the country will cope projected population growth, with estimates suggesting room must be found for an additional 210,000 new homes over the next five years.
In a statement the recruiter observed: "Plans at the moment will only provide 7% of the necessary housing, so more needs to be done to provide living spaces. Skyscrapers could resolve these issues because one tall tower provides between 300 and 600 residential units and, in areas like London where space is already in short supply, they're the sensible, efficient solution."
First and foremost though the project serves a bit of Friday afternoon fun.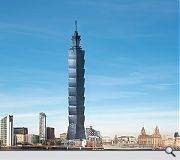 Liverpool's famous waterfront takes on a dizzying new perspective in this drawing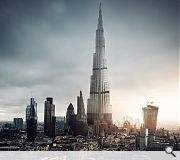 London's emerging cluster of talls are shown who is boss by the commanding presence of the Burj Khalifa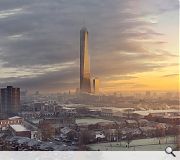 Manchester looks practically horizontal when zoomed out to accomodate the bulk of One World Trade Centre
Back to June 2016