Keppie complete modular Inverness garden hotel
|
Send to friend
June 14 2016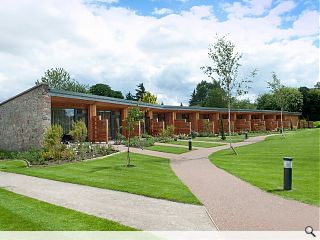 Keppie Design has completed a £1m modular timber extension of the Kingsmill Hotel, Inverness, in collaboration with Carbon Dynamics.
Gypsum fibreboard panels and fermacell boarding were used to build 13 modular 26sq/m garden lodges in the grounds of the existing four-star hotel with each playing host to a king size bed, en-suite and both indoor and outdoor seating areas.
Each lodge was manufactured and fitted out in under three weeks at Carbon Dynamic's factory before being transported to site and installed over a two day period.
Keppie Design divisional director Mike Lawson said: "The planners were very receptive to the sensitive integration of development into an established garden setting and fully supportive of the utilisation of Modern Methods of Construction."
Arranged in a crescent to maximise views and privacy the scheme seeks to better embed the hotel within its landscaped grounds, bookended with a natural stone wall which acts as an extension to an existing wall to conceal the build from view.
Keppie's Inverness office is one of just three to survive a
recent round of studio closures
.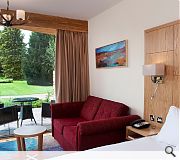 Rooms are finished with untreated Scottish larch
Back to June 2016