BDP lay out North east Scotland College vision
|
Send to friend
May 20 2016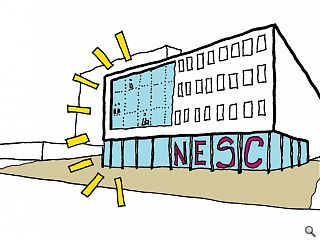 BDP have outlined a number of recommendations for the redevelopment of estates belonging to North East Scotland College after being appointed to research the future of five campuses operated by the further education institution.
The £65m master plan calls for a refurbishment of the college's Gallowgate campus in Aberdeen together with refurbishment and new build elements at Altens to accommodate planned closure of the Clinterty campus.
Facilities in Fraserburgh and Peterhead will receive a more modest maintenance programme under the planned changes.
The lion's share of this work will be the Gallowgate where the existing South Block will be retained with courtyards covered to allow creation of open plan student classrooms and consolidated student services hub.
This will facilitate an increased footfall to Loch Street which will double as a college 'High Street' with improved public realm off which ground floor based community facilities such as a health and fitness suite can be accessed.
At Altens meanwhile it is proposed to build a new workshop facility including an entrance square which will serve as a focal point for the campus.
A finalised master plan is expected to be ready by the end of July.
Back to May 2016