Timber pyramid, lookout tower and factory join 2016 RIAS/RIBA Awards shortlist
|
Send to friend
March 24 2016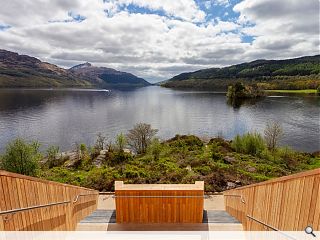 The Royal Incorporation of Architects in Scotland (RIAS) has shortlisted 23 projects for the 2016 RIAS/RIBA Awards, an eclectic list that includes a timber pyramid, lookout tower and factory.
Judging chair and RIAS president Willie Watt said: "While fees and procurement continue to challenge all of us our awards celebrate the very best that is being built in Scotland.
"Geographically although, unusually, there are no Island visits, we will travel from a factory in Dumfriesshire to a lookout tower in Sutherland. This is a list that fully demonstrates the privilege of living in our magnificent wee country and just how architects have embraced the responsibility that brings with it."
A total of 24 projects were shortlisted for last year's event, whittled down from 65 submissions, of which
12 went on to win an award
.
Shortlisted projects are noted below in alphabetical order:
1 West Regent Street
, Glasgow
Ryder Architecture
The challenge was providing 135,000 sq ft of offices while preserving a listed building and integrating this with an innovative new design that blended with its surroundings and added to the cityscape. Clad in a bronzed metallic curtain wall system, the interior spaces are virtually column free and offer 360 degree views of the city.
Blakeburn
, Roxburghshire
A449 LTD
A complete overhaul of a nondescript mid-20th century dwelling to create a unique and elegant countryside home. The footprint was extended to the east and west of the existing building, with the entire building then over-clad, in scorched larch, to blend in with nearby woodland.

The British Golf Museum and Café
, St Andrews
Richard Murphy Architects
Opened in 1990, this museum in St Andrews attracts more than 60,000 visitors annually but lacked space for visitors to enjoy refreshments. The existing building was single storey and mostly sunk into the ground. The reorganisation places the café on the new first floor but changed the orientation by 90 degrees so most seats now look towards the Old Course.

Castle MacLellan Foods
, Kirkcudbright (contract value: £3.8m)
Taylor Architecture Practice Ltd (T.A.P.)
This project aimed to create a well-designed, industrial building that was a pleasurable working environment with a welcoming frontage in a riverside setting. A new reception block on the street edge provides a point of arrival while rising up to become a bridge, spanning the main goods-in area and linking to the upper level of the existing factory.

City of Glasgow College
, Riverside Campus, Glasgow (contract value: £66m)
Michael Laird Architects/Reiach and Hall Architects
Located at the edge of a major crossing of the River Clyde, the site marks a gateway in the city and projects the College's importance as a civic institution as well as creating a new landmark. New buildings are organised around two civic spaces - a cloistered garden and a grand hall - which encourage students to mix and realise opportunities for blended learning across disciplines.

East Kilbride Health Centre
, East Kilbride (contract value: £12m)
Reiach and Hall Architects
The idea was to create an impressive, brightly lit, social space at the heart of the building that the entire community of users could engage with. All spaces are gathered around a central, enclosed atrium with outward views. The square geometry and the atrium provide efficiency and economy of movement - the patient journey is always minimised.

Forsinard Lookout Tower
, Sutherland
Icosis Architects
This tower was created to give conservation-minded visitors an elevated and striking look-out over the Flow Country and its blanket peat bogs and associated pools. To minimise disruption to the peat, the construction is similar to that of an oil rig, built off 150mm diameter hollow piles driven to a solid base around 4m below the surface.

Glasgow Women's Library
, Glasgow (contract value: £900,000)
Collective Architecture
This project reformed the internal spaces of the existing Bridgeton Carnegie Library with a design strategy that involved an informal reading area and open-plan mezzanine area within the former main reading room. The reading room rests above a new ground floor cafe/kitchen and informal display/exhibition space.

Helensburgh Town Centre Public Realm
, Helensburgh (contract value: £6.6m)
Austin-Smith:Lord LLP
The design ethos was to create a town centre with attractive, usable and flexible public spaces to support community events, festivals and markets. The walkways, soft landscaped areas, tree lines and lighting columns are set out on a simple grid, which enhances and frames the several high-quality, listed buildings within Colquhoun Square.

High Mill & Preparing Rooms
, Verdant Works, Dundee (contract value: £1.7m)
James F Stephen Architects
In 2010, the three-storey High Mill - dating from 1833 - and the adjoining single-storey preparing room were derelict but the Category A listed buildings have now been restored. Modern interventions, such as an educational pod, have been sensitively designed to sit alongside the original industrial aesthetic.
"
it's bigger on the inside
", Edinburgh
David Blaikie Architects
This "glass box" extension and remodelling of the ground floor rear rooms allows the new kitchen and dining spaces of this Category B listed, Victorian townhouse to "spill out" into a south-facing garden. The remodelling of the rear rooms and modest extension is part of an overall refurbishment of the whole house.
Laggan Locks
, North Laggan
Sean Douglas & Gavin Murray (in collaboration with Oliver Chapman Architects)
Scottish Canals was seeking to create a unique "stopping off" opportunity at Laggan Locks on the Caledonian Canal for visitors travelling by car or bus along the busy A82 and also for the 30,000 visitors travelling the Great Glen Way by boat, foot or bike. The structure provides a seasonal café/kiosk that provides a sheltered viewpoint down the Great Glen all year round.

Lairdsland Primary School
, Kirkintilloch
Walters & Cohen Architects
This 280-pupil school is designed to deliver the new Scottish Curriculum for Excellence and to be a beacon in its community and a quality learning environment. The canal-side location was the inspiration for construction parallel to the water with semi-open plan learning spaces and double-height glazing to provide views and a light and spacious environment.

Midden Studio
, Argyll and Bute
Studio Weave
This spiky, zinc-clad artist's studio sitson a former Victorian midden, recalling the vernacular agricultural buildings nearby, the granite rocks that punctuate the landscape and the flourish of 'Scottish Baronial'. Immersed in the landscape, surreal details are revealed only on closer inspection: the cantilever which apparently floats over the burn, uncanny twin gables and echoed stone mouldings.

Modern Languages Building
, Clackmannanshire
Page \ Park Architects
This pavilion teaching building forms a component of Dollar Academy's new 'Teaching L', conceived as an open 'quad' at the heart of the campus. Accommodating ten new classrooms, five are in the solid brick plinth lower floor and the rest in a glazed viewing pavilion above. Wide corridors on the upper level act as a viewing gallery out towards the striking grounds and hockey pitches.
Polnoon
, Glasgow (contract value: £6.1m)
Proctor and Matthews Architects
The first phase of a 121-home extension to an historic, planned village, key objectives were to create vibrant streetscapes, and provide a thoughtful transition from historic, through contemporary, to rural. Standard house types were developed with reference to Eaglesham's historic context.
The Pyramid Viewpoint
, Dunbartonshire
BTE Architecture
This peninsula viewpoint overlooking Loch Lomond, taking the shape of a triangular platform at the end of a long, curved path is first seen as a narrow, vertical stack amongst the trees. Only a glimpse of the loch is visible through a long tunnel, marking the entrance.
Ronald McDonald House
, Glasgow
Keppie
A 30-bedoom "home from home" that provides comfort and shelter to the families of sick children being treated at a nearby hospital was the brief. The result is a series of vernacular, white brick forms, interconnected by green-roofed, white concrete porticos which, in turn, create an industrial silhouette, referencing the shipbuilding heritage of the area.
Saunders Centre
, Science & Technology Building, Glasgow
Page \ Park Architects
The building at the Glasgow Academy includes a new 178-seat auditorium, complemented by a generous foyer that wraps around the sculptural elliptical form. On each upper floor, four general teaching labs, together with a sixth year lab, are arranged along a glazed break out and bay-windowed passage overlooking the historic main school.

Sighthill Regeneration
, Glasgow (contract value: £12.5m)
Collective Architecture
This redevelopment provides 141 new-build houses and flats on a mostly vacant site to create new urban blocks that respond to the scale of existing flats. The design team wanted to provide a strong identity for the new neighbourhood and chose to express this through careful selection of materials and the creation of strong, built forms, based on early Scottish styles such as crow-stepped gables and rectilinear blocks.
St Vincent Crescent Sub-station
, Glasgow
NORR Consultants Limited
The design brief was to house the substation in an enclosure appropriate to its Grade A listed neighbour with an elevational treatment that was modern and lively but still practical. The materials recognise the formal stone frontage of the nearby Georgian terrace with a masonry base of dressed blond ashlar sandstone to the south elevation.
The Surgeons' Hall Museums
, Edinburgh (contract value: £3.5m (inc exhibition fit-out))
John McAslan + Partners
This scheme introduces direct access to the historic museums via a new glazed linking building, adds a distinct street front visual identity and improves accessibility. Inserted between two Grade A listed buildings, the new link, clad in full height anodised aluminium curtain walling around a lightweight glazed structure, promotes a contrast to the heavy masonry of the existing buildings and acts as the interface between old and new.

Zinc-House
, Angus
LJR+H Chartered Architects
Set in the agricultural landscape of Angus, a collection of abandoned farm sheds on the site forms the over-riding conceptual idea for 'Zinc-House'. The house is a composition of aggregated internal and external spaces articulated and unified by a continuous roof. Built over one-and-a-half storeys the whole is divided into four tied elements - car port, garage/office, entrance/court, and house.
Back to March 2016