McAslan confirmed for £66m Burrell Collection job
March 3 2016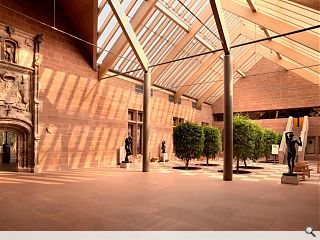 John McAslan & partners have been
confirmed as lead designer for an overhaul of Glasgow's Burrell Collection
alongside project managers Gardiner & Theobald and exhibition designers Event Communications.
The team will be tasked with improving displays and the built fabric of the museum, which has been deemed no longer fit for purpose despite having been purpose built in 1983, in a job worth up to £66m.
Described as an 'exemplar of sustainability' the work will slash energy usage in the museum whilst opening up basement stores to the public and inserting a new circulation core. Other works will include construction of a new learning space, expanded café and shop and landscaped terracing to better connect the museum to surrounding parkland.
James Robinson, director of Burrell Renaissance said: "We would like to thank all those who took part in the process. The appointed design teams show a great understanding and confidence in their ability to create innovative solutions that will allow us to open up the Collection whilst maintaining the quality and integrity of the existing building."
Concept designs aren't expected until autumn with building work getting underway in October.
Image provided courtesy Glasgow Museums
Back to March 2016