Hoskins Architects break ground on Vienna Museum of Ethnology
|
Send to friend
February 23 2016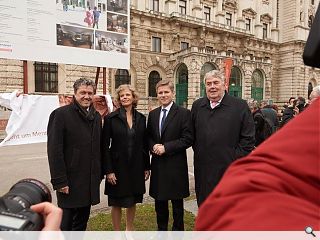 A two year collaboration between Hoskins Architects and exhibition designers Ralph Appelbaum Associates (RAA) is coming to fruition with a ground breaking ceremony on site of the Weltmuseum Wien, the
largest anthrpological museum in Austria
.
The team have been tasked to work with the historical character of the institution whilst upgrading facilities through a number of contemporary additions and exhibitions.
This will take the form of a 'multifunctional cube' to the front of house, containing visitor information and doubling as a projection surface, event stage and temporary café. Internally a new wayfinding system will aid orientation together with an integrated café and museum shop within the centrepiece columned hall and separate event space.
Improvements to exhibition spaces will see historic display cases dating from 1912 restored and upgraded to make use of today's technology.
In a statement the design team said: "It was very important to develop exhibit halls with a completely new design language, that directly translates the key content messages. Based on the stories and the selection of artefacts, RAA planned a new, purely white display system to contrast with the graphite historical cases.
"This design also complemented the Weltmuseum Wien's curatorial concept of juxtaposing collection centered exhibit halls with more discursive halls, that convey their content primarily through interactive media and graphics."
Hoskins Architects' Berlin studio is heading up the museum renovation, which is scheduled to throw open its doors to the public in late 2017.
Back to February 2016