Bigg Design unveil off the wall Baker Street 'Wonderpass'
|
Send to friend
February 4 2016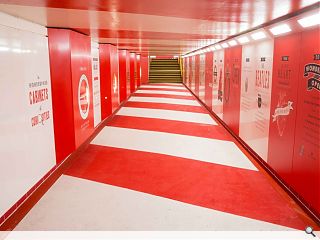 A dank pedestrian underpass beneath London's Baker Street has been transformed into a walk-through gallery by Bigg Design following implementation of a public realm strategy devised by TFL.
Part optical illusion, part tourist information and part gallery The Baker Street Wonderpass the scheme seeks to turn a neglected warren into a cultural asset by highlighting local attractions to passing pedestrians.
BQP chief executive Penny Alexander said: "The Wonderpass provides the magnificent fanfare welcome this area deserves celebrating its fascinating past and showcasing our great attractions."
Working on behalf of participatory arts organisation Sing London and the Baker Street Quarter Partnership artist Hamish Biggs has created five 'cabinets of wonder' which encourage passers-by to peer inside and view cultural displays whilst lining the newly colourful walls with stencilled fun facts and figures.
The work was completed over a five month period and is being held up as a template for other neglected underpasses.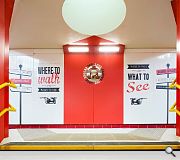 A timeline of historical events lines one wall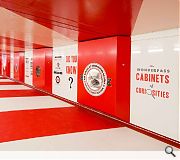 Biggs sought to create an environment in which people would seek to linger
Back to February 2016