Former housing director makes bid to save Glasgow high rises
March 13 2008
Former director of housing at Glasgow City Council, Paul Mugnaioni, has put proposals before Glasgow Housing Association to buy and renovate several high rise tower blocks in Glasgow which are scheduled for demolition.
Mugnaioni's firm Quality Street is currently in talks with GHA and Glasgow City Council to purchase tower blocks in the Gorbals and turn them into energy efficient 'Ecotowers', and Mugnaioni argues that his plans would be 23 times greener than demolishing them and building new houses in their place.
Speaking to architecturescotland Mugnaioni said: "The Ecotowers plans would make a very significant contribution to reducing Glasgow and Scotland's construction carbon footprint through the regeneration of sustainable and affordable housing, without the environmental consequences of demolition.
He continued: "It took a vast amount of energy to build Glasgow's high rises, and our engineering reports say they were so well constructed that they are built to last for 90 to 100 years."
Two of the four towers Mugnaioni was looking to purchase are to be demolished this summer, however he remains confident that he can change the high rises' fortunes.
"Yes, the towers we are looking at are earmarked for demolition, but nothing is signed and sealed on the vast majority of them yet, and we are hopeful that our argument will prevail and Ecotowers will happen… It's a win win solution, by providing attractive and affordable housing, helping accelerate the city's already impressive regeneration programme and it will be a great solution for the environment."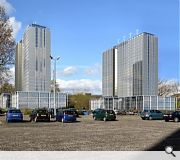 How the Laurieston towers would look under Mugnaioni's proposals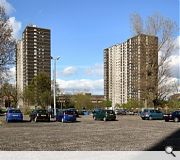 Laurieston tower block in the Gorbals
Back to March 2008