Urban Realm's winter edition ushers in the New Year
January 5 2016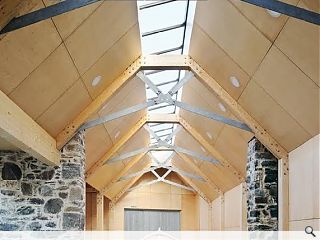 As another year gets underway Urban Realm kicks things off with the return of our annual snapshot of the architecture industry, cataloguing the top 100 practices at play today. It's an exhaustive list and whilst many of the names on it are familiar it contains plenty of surprises too.
Whilst the UR100 absorbed most of our time this winter it is by no means all that we've been up to, as we look ahead to the Festival of Architecture. This is a window of opportunity not just for the profession to showcase itself at its best but to lay its problems bare. It is disappointing therefore that the RIAS seem intent on pulling the curtains over the latter.
When it comes to problems there are none bigger than Britain's housing crisis, demanding some equally big solutions, as we found out during the Scottish Civic Trust annual conference.
Elsewhere we document success in a variety of watery guises; from the riverfront bombast of Michael Laird Architects and Reiach & Hall's Riverside Campus for City of Glasgow College, to Brown & Brown's surreptitious Portsoy Boatbuilding Centre.
Meanwhile that black sheep of UK cities, Stoke-on-Trent, is the subject of John Lord's latest walkabout. With six separate centres and none the amorphous city has long struggled to keep pace with more singular competition –but should we just let it die?
To read about all this and more pick up your
Urban Realm subscription now
.
Back to January 2016