JM Architects prepare plans for Old Town student homes
October 15 2015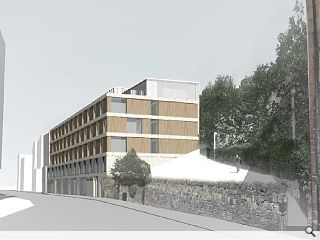 JM Architects have submitted plans to build
91 student residences and commercial space
in Edinburgh's Old Town on behalf of Buile Developments, replacing a single storey stone warehouse on Calton Road.
Clad in timber and reconstituted stone to complement an existing wall the project will include a green roof to blend in with the landscape as viewed from Calton Hill to the rear.
Situated next to Caltongate the scheme makes space for a fifth floor roof terrace fronting a light weight sixth floor, whilst an additional set back to the east respects daylight guidelines for neighbouring social housing.
In their design statement the architects observed: "When viewed from Regent Road/Calton Hill, the mass of the building appears to flow down with the landscape of the enscarpement and merge through the incorporation of the accessible terrace and green roof arrangement."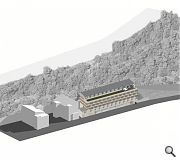 Massing has been considered to step into the hillside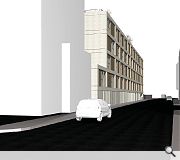 Reconstituted stone will be used to marry with an existing wall
Back to October 2015