End of the Red Road (almost)
October 12 2015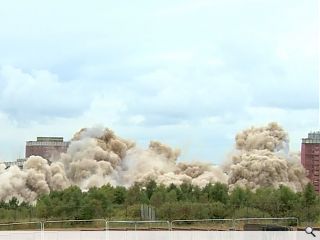 Glasgow Housing Association and SafeDem have completed the demolition of six high rise blocks at the
Red Road estate
to the north of the city, although two stumps remain after explosives failed to completely fell two blocks.
In a statement Safedem managing director William Sinclair said: "Two of the six blocks involved in Sunday's blowdown didn't fall exactly as planned. Instead of 10 storeys remaining in all of the blocks, we now have 13 still standing at Red Road Court and 11 at Petershill Drive.
"However, we will proceed with our original plan of dismantling all of the blocks using routine machine demolition methods. Preparations for this are already underway and high-reach machinery will begin taking down what's left of the blocks this week."
Asked whether the blocks would be missed Urban Realm editor John Glenday told the
BBC's Good Morning Scotland
: "It's transformative. I suspect many people commuting in this morning will notice the gap on the skyline. There are a growing number of voids now around the city not just at Red Road but at Sighthill, Shawbridge and elsewhere.
"High-rise housing of the sixties and seventies is coming down at close to the rate at the same pace they were built. We are seeing the city re-form around us peripheral areas contract and people move back into the city centre."
GHA will now press ahead with a residential-led regeneration scheme once the site is cleared.
Back to October 2015