Tunnel Vision
September 23 2015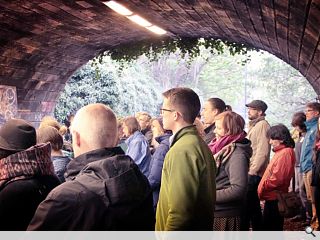 Edinburgh based co-design studio Here + Now, a team of landscape architects, designers and photographers, is to repurpose a disused railway tunnel in Edinburgh for a month long public art exhibition of photographs and stories contributed by local residents.
From 24 September Rodney Street tunnel, Canonmills, will be the setting for '
Hold Me Dear: Four Cities, [Extra]ordinary Places
' as the walls of the popular walking and cycling route are temporarily taken over by a range of personal insights and reflections.
Judy of 'Friends of KGV Park' commented: "The cycle track passes through the Rodney Street Tunnel, a gateway into the park, and has introduced our dear green space to a multitude of people from all over Edinburgh. But the tunnel cries out for an injection of colour, life and affection and how better to do that than with an exhibition of loving words and images which would link it to other corners, hidden and not so hidden, of this and other cities. Isn't that what a tunnel does? Links worlds at either end? So, we say, let it happen!"
Reopened in 2009 by Sustrans following 41 years of closure a tunnel exhibition launch event will take place on 27 September at 12:00 where the tunnel opens out onto King George V Park.
Back to September 2015