Tarfside trio laid low in weekend blow down
September 21 2015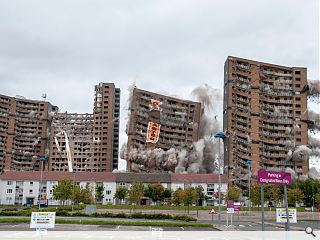 A trio of 22 storey high rises at
Tarfside Oval, Cardonald
, have been imploded as part of a £5m regeneration drive by Glasgow Housing Association which will see 50 new homes built on the land.
The controlled demolition was undertaken by Dem Master who used 180kg of explosives to bring the properties down, with a fourth block left to stand incongruously amidst the dust of its neighbours as it is brought down by long-reach crane due to the close proximity of neighbouring properties.
Alex McGuire, director of GHA parent company the Wheatley Group said: "The demolitions will allow us to breathe new life into the community and transform it for future generations.
"The new homes planned will make a massive difference to the lives of tenants and to the wider neighbourhood."
Existing tenants have been decanted to alternative accommodation in the south of Glasgow with the regeneration effort expected to conclude by 2017.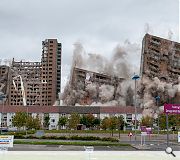 new homes will be built following a six month clear-up operation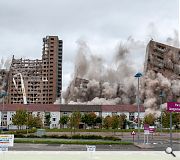 The high-rise flats were deemed too expensive to maintain, sealing their fate
Back to September 2015