Hotel approved for Old Trafford cricket ground
September 2 2015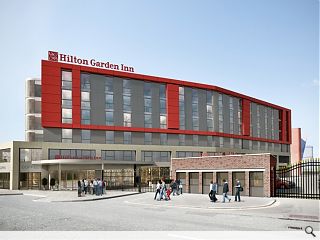 Lancashire County Cricket Club have secured planning consent for a 150 bed Hilton Garden Inn hotel at Manchester's Old Trafford Cricket Ground, clearing the way for construction work is to get underway later this year.
Designed by hotel specialists ICA Architects the scheme aims to complement a newly built player and media centre, events venue and redesigned pavilion.
Intended to serve as a 'sister' to the existing events space the scheme is conceived to restore symmetry to the arena whilst offering terraces, balconies and extensive glazing to capitalise on its pitch-side location.
In a statement ICA said: "Interior Design will be a significant feature of the new hotel. Working with Hilton ICA will combine and integrate the hallmarks of the Hilton Garden Inn brand with the design of the stadium's other facilities. The new hotel will provide the latest in design, comfort and technology for guests and be a place to meet, socialise, work and play in a comfortable and relaxed atmosphere."
A glazed link bridge will offer direct access to the stadium's existing hospitality services when it completes in March 2017.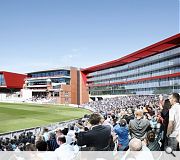 The hotel completes a crescent of development carried out under a stadium master plan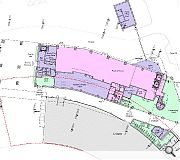 The hotel will incorporate a street facing coffee shop
Back to September 2015