Voigt Partnership win Ninewells Hospital garden room comp
July 31 2015
Arbroath based architectural practice The Voigt Partnership has won a national design competition to create a garden room within the grounds of Ninewells Hospital, Dundee.
The practices design will now be made a reality as a space for garden-related activities by patients, staff and visitors such as presentations, training and social space.
Replicating the natural form of the landscape around it the rectangular Scottish Larch clad pavilion sits below an overhanging leaf-shaped roof with supporting beams and rafters mimicking the leaf stem and veins.
A series of Douglas Fir columns will support this roof structure, which doubles as a rainwater receptacle for garden use.
Neil Horton from suppliers BSW Timber said: "The winning design showcases how Scottish Timber can be used in construction to create a landmark structure for people to enjoy all year round. Not only did Jonathan Reeve and The Voigt Partnership Limited demonstrate skilful development in their detail design they also maintained the clarity of concept that had been presented at stage one."
Overlooking nearby woodland the room will feature corner sliding doors and external decking to better connect with the landscape and nearby Maggie's Centre.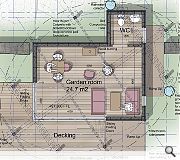 A regular rectangular room has been specified for ease of construction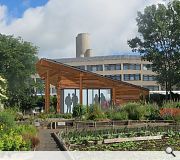 The timber pavilion will help domesticate the institutional environment of the main hospital
Back to July 2015