Edinburgh's 21st Century Homes drive gathers pace
July 27 2015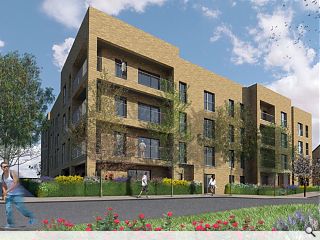 Anderson Bell + Christie have
submitted plans for the creation of 184 affordable homes at North Sighthill
, Edinburgh, on behalf of 21st Century Homes.
Located on the edge of Sighthill Park, on the site of recently demolished high-rise housing, the scheme takes the form of a series of urban blocks defining a gridded road network.
In their design statement the architects observed: "The four storey flat blocks form a perimeter to the site and corner conditions allow gateway features to be created. This scale reflects the urban character of the site and responds to the busy main roads and allows a transition from the height of Napier University.
"Within this outer perimeter 'wall' is a lower rise, more open environment. Key corners are picked out with three storey end terrace types, which frame two storey terrace housing in between. These end terrace units also facilitate a visual transition from the four storey flat blocks to the two storey terrace properties."
An additional 130 homes for private sale will be subject to a separate planning application.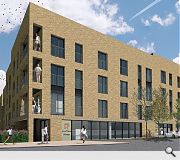 A mixture of houses and terraces will be built at the heart of the development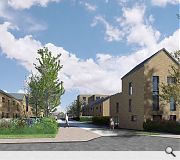 Each block will be finished in a uniform brick which will be 'softened' by soldier courses and header details.
Back to July 2015