3DReid think inside the box for Falkirk Church
June 23 2015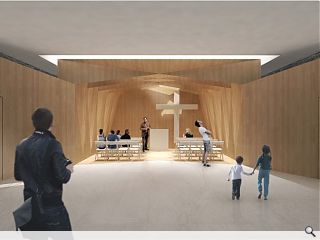 3DReid have submitted a planning application to remodel Avonbridge United Reform Church, Falkirk, to improve the standard of facilities on offer within a tight budget.
Faced with a dilapidated main hall and a church which is much too big for current needs 3DReid were forced to get creative to meet the demands of their brief at minimum cost.
This has seen the architects recommend removal of the existing hall whilst consolidating activities within the church itself by inserting a contemporary timber volume within which will be housed a sanctuary, kitchen and toilets.
The resulting space is designed to offer flexible accommodation for large and small groups as well as the capacity to double up as an events space – crucial for the churches secondary social and civic functions which include a credit union and lunch club.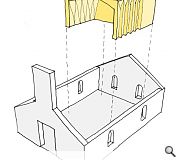 Hard stone walls of the existing church will give way to a warmer timber infill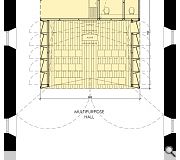 Shrinking congregations have forced the church to investigate creative ways to downsize
Back to June 2015