Public consultation scheduled for Grassmarket development
April 24 2015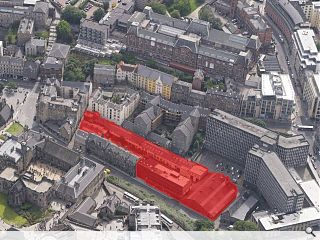 Peveril Securities and Campus Development Management have submitted a proposal of application notice for the creation of a mixed use development including flats, student accommodation, café, hotel and an arts facility and workshops on
Edinburgh's King's Stables Road
.
As part of this process a public consultation will be held on 17 and 18 June between 15:00 and 20:00 at 8-20 King's Stables Road.
Jeremy Collins of hotel advisers Jenics, said: "We are particularly aware of the sensitive nature of the site and its location as a UNESCO World Heritage Site, located within the city's proposed cultural quarter. These aspects are of particular significance in our ongoing discussions with hoteliers and are clearly seen as beneficial features when it comes to marketing the location.
"The site will likely provide somewhere between 125 to 150 bedrooms and we are looking at creating a 'non cookie cutter' quite design. It also boasts the unique feature of being situated immediately below Edinburgh Castle."
The hotel will offer guests access to private courtyard gardens and has been designed to reflect the history and character of the Grassmarket. A number of potential hotel operators are said to have expressed an interest in managing the venue.
Back to April 2015