Construction begins at Crallan and Winstanley site
|
Send to friend
January 10 2008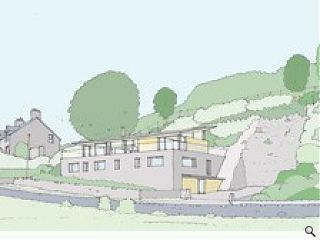 Construction has started on a new house by Crallan and Winstanley Architects on a spectacular site overlooking the Solway Firth. The site is a steeply sloping former quarry.
The first floor forms the public living accommodation with an external terrace facing the sea. The ground floor contains the private bedroom and bathroom facilities and the lower floor contains the garage and main entrance. The first floor is conceived as a glazed pavilion sitting on top of a masonry base, which contains the private accommodation.
The pavilion will be constructed with a standing seam zinc roof, glazed on the sides with views and panels of durable timber cladding. The masonry base will be clad with natural stone matching the exposed rock face of the quarry. The house will be insulated to a high standard and will utilise a ground source heat pump for the heating and hot water system with an energy efficient wood-burning stove as back up.
Back to January 2008