Wick nuclear archive secures planning permission
March 26 2015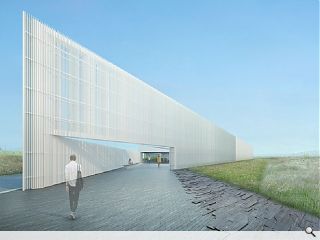 Highland Council has
awarded planning permission
to the Nuclear Decommissioning Authority for the construction of a
£20m nuclear archive opposite Wick airport
.
The decision comes as the NDA prepares to name contractors appointed to develop the next phase of design work for the building, which is scheduled to complete by late 2016.
Designed by Reiach & Hall to house industry records the facility will contain plans, photographs, and drawings stretching as far back as the Second World War. This content is currently scattered in separate inadequate storage facilities around the country and will be digitised to aid electronic research.
In a design statement the anodised aluminium build the NDA said: "A massive double height cellular construction with a double skin roof is proposed for the repository accommodation to provide permanence, environmental stability and security. In contrast, the public and ancillary accommodation has been developed as an open plan enfilade layout of lighter weight construction.
"From the outset, the proposals generated a triangular building that was arranged around a string of landscaped courts that lie along a line that describes both the diagonal of the site and its alignment with North."
Full public access will be offered to the building which will also serve as a base for training archivists, around 20 of whom will be employed on-site.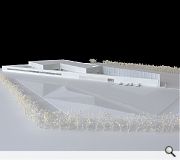 Plans for the facility first emerged back in 2009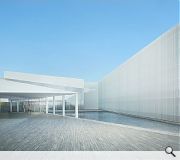 The archive is orientated to offer views of the coast
Back to March 2015