Edinburgh catches first Frisbee golf course
February 19 2015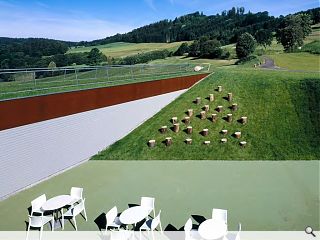 Autism Ventures have submitted plans for a new
club house, mountain bike trails and Frisbee golf course
at Braid Hills, Edinburgh, as the flying disc sporting mash-up arrives in the city for the first time.
Concept designs prepared by Inch Architecture, with input from ERZ, Atelier Ten, Armour and Design ID, for the £3.4m project call for development of a 22 hectare site around the existing hermitage golf course, which will be retained.
This will include the new course, in which players attempt to land Frisbees in a sequence of baskets, as well as a café, shop and workshop within a new build club house.
In their design statement Inch said: "The building is conceived as a continuation of the existing landscape. A plateau is formed at which establishes the principle floor level. From this, 'tree' supporting structures rise to support two stepped roofs.
"The southern roof sits low, beneath Braid Hills Drive and is cranked to permit north light and passive ventilation to the internal core through openeable panels within clerestory glazing. The northern roof sits beneath the south, forming the lower level of the clerestory glazing. This step in roof levels helps to reduce the height of the north elevation and creates a stepped soffit internally which supports smaller private areas such as offices and staff facilities."
The property will be finished in glazing and Siberian larch rain screen cladding on a concrete base.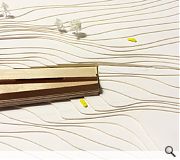 An existing golf course and parking will be retained for the expansion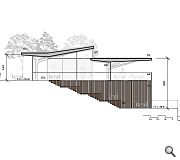 Inch have specified a green roof to minimise impact on the surrounding landscape
Back to February 2015