Edinburgh Council to seal fate of Meadowbank Stadium
January 14 2015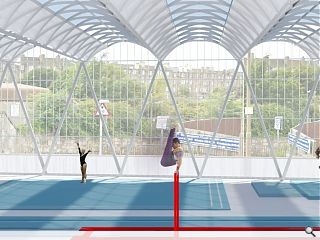 The City of Edinburgh Council is to decide the fate of
Meadowbank Stadium
next month as its corporate policy and strategy committee meet to decide whether to allocate up to £19.8m in funding toward a £43m redevelopment.
Design concepts prepared by Reiach & Hall architects envisage creation of a new sports centre on the site in partnership with SportScotland, together with the sale of surplus land for housing.
New facilities which could be offered as a result of this work include an indoor and outdoor athletics track, sports halls and two synthetic sports pitches.
Councillor Richard Lewis, culture and sport convener for the council, said: "Over half a million users visit Meadowbank every year and it is a much-loved city sports facility, but we will need to consider how we can source funding for a project of this scale given the financial pressures the Council faces.
"If agreed by the Corporate Policy and Strategy Committee, the future of Meadowbank will form part of the Council's budget considerations for the next financial year."
Should the plans be approved the new facilities could be ready by 2018 but if the funding bid should fail all services will be withdrawn by 2020.
Back to January 2015