Biggar Primary School opens for business
December 4 2014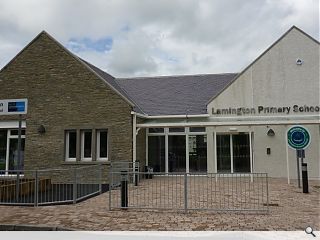 The conservation village of Biggar is adjusting to the newest addition to its built fabric after South Lanarkshire Council unwrapped the new Lamington Primary.
Built as a replacement to the 150 year old existing school, which had become unfit for purpose, the £1.3m build nevertheless made use of like-for-like Welsh slates to tie in with the character of the village.
Built by McLaughlin & Taylor the steel and timber frame structure provides two classrooms and a gym/dining hall together with supporting services and staff accommodation.
Architect Jonathan Wilson, of South Lanarkshire Council's housing and technical resources department, commented: "The fact that the school is in a Conservation Area required that we use scale, features and materials similar to the surroundings."
The council's design statement added: "The proposal aims to use a number of traditional materials like slate, stone and smooth render in a contemporary manner which draws its language from the traditional and local; vernacular but avoids being a slave to it."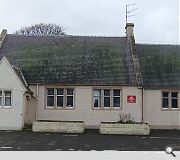 The existing school was demolished and 355sq/m of neighbouring agricultural land acquired to make way for the development
Back to December 2014