Napier University press ahead with campus refurbishment
November 24 2014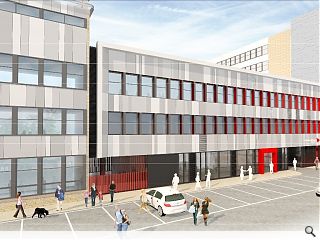 Napier University is to over-clad and refurbish the primary elevation of its Colinton Road entrance as part of an ongoing programme of campus improvements.
Proposals
submitted by Smith Scott Mullan Associates
call for the cement clad three storey entrance and adjoining engineering annex to be refaced with fibre cement rainscreen cladding with lighting and signage used to better delineate the entrance.
This will see a graded colour scheme employed with bright red signifying the entrance undercroft, fading to burgundy and then grey further down the elevation.
In their design statement Smith Scott Mullan noted: "The proposal aims to enhance the elevation through the subtle use of colour and create a more positive aesthetic effect to the streetscape for students, the passer-by and motorist. Attention to the lighting at street level and at upper levels is predominant in the design, in order to enhance the environment as a whole as you move along the street."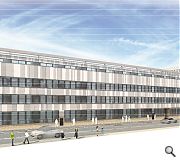 An adjoining engineering annexe will be given similar treatment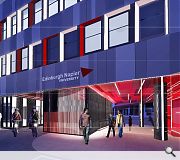 LED lighting will be harnessed to further draw attention to the entrance space
Back to November 2014