Springburn Winter Gardens competition winner announced
November 21 2014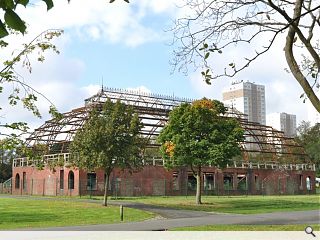 The Glasgow Institute of Architects has named James Hand and Nik Klahre as winners of a design competition for a new
gathering space and history resource at Springburn Winter Garden
.
Shortlisted from 25 entrants the winning scheme won out after securing 324 public votes during a rolling exhibition of plans and models designed to drum up interest and support for securing a sustainable future for the A-listed structure.
It takes the form of a row of four interconnected sheds designed to evoke memories of the plant houses which once stood on the site.
Paul John Sweeney, secretary of Springburn Winter Gardens Trust said: "We are very excited by all of them [shortlisted designs] and indeed there are many aspects of several designs we are keen to explore for other parts of the site. The winning design proved to be an excellent reflection of the brief and it has also responded in an innovative way to the A-listed character of the original Winter Gardens structure. We look forward to developing this design as the basis of our plans for this part of the site."
Hand and Klahre added: "We look forward to helping the Springburn Winter Garden Trust work toward the future revival of the Winter Gardens and hope it will once again become a cherished and animated part of the community."
An exhibition of competition designs will be held at Glasgow's Lighthouse from 29 January to 11 March 2015 which will include second and third placed entries from City of play Design and Ruggero Lancia.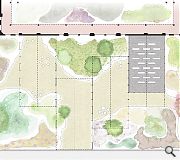 Demountable metal sheds can be assembled and disassembled as needed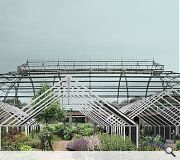 The structural additions would be left open to both the public and nature
Back to November 2014